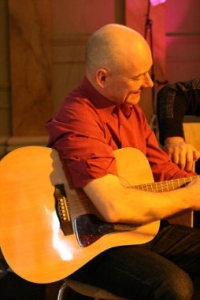 Simon Nelson has been a professional guitarist for 30 years. Simon has lived and toured all over the world, including the USA, Bermuda and Australia.
Initially self taught, he later felt he ought to "know" something about music, and took a Bachelor of Music degree at Goldsmiths College, a Master of Arts at City University and a Ph.D. in Ethnomusicology at City University. For the latter he wrote a thesis on the origins and evolution of blues guitar.
As a session musician Simon has recorded for the ABC in Australia, and the BBC in the UK. He has played in a touring band at Birmingham, Manchester, Sheffield, Belfast and Newcastle Arenas, the O2 and the Albert Hall with Joss Stone, Ms. Dynamite, Heather Small, Beverley Knight, Paul Jones (Manfred Mann), Des'ree, Alexandra Burke, Tony Hadley, Helen Shapiro, Candi Staton, Mavis Staples, and Jocelyn Brown.
In a worship context Simon has played in bands with Andy Piercy, Charlie Groves, Nick Herbert and Nick Drake. He has been in Dave Bilbrough's band since 1997, appearing on Dave's last 6 albums – including the award winning DVD This Is My Worship and People Of Promise. He has appeared regularly on The God Channel and Songs of Praise. He has appeared on Songs of Praise playing with Dana, Candi Staton, Paul Jones and Mavis Staples.
Simon plays original music with his co-writer / brother Steve Nelson – www.nelsonbrothers.co.uk. The two brothers are also currently playing in an original band (Sadie and the Hotheads) with Oscar nominated Hollywood actress Elizabeth McGovern (Downton Abbey).
Simon has taught guitar for 20 years, and has, over the last 16 years, taught courses in guitar in the worship context for Holy Trinity Brompton (HTB), Kensington Temple, St. Michael's Chester Square, St. Mary's Bryanston Square, Holy Trinity Hounslow and Oasis, Colliers Wood.
Simon is currently teaching at HTB, Holy Trinity Hounslow and St Barnabas, Kensington.